DAF respects your privacy. We use cookies for a variety of purposes, such as website functionality, improving your experience of our website, building integration with social media and helping target marketing activities within and beyond our website. By continuing your visit on our website, you are consenting to our use of cookies. However, if you want to customize your cookie preferences, click on 'Change settings' below. You can withdraw your consent at any time. For more information, please visit our Cookie Notice.
DAF Components unveils new, efficient and quiet rear axle
New Euro 3 and Euro 5 engines also on show at Busworld 2019
Boasting 2% lower fuel consumption thanks to minimised internal friction and a high-speed total reduction, an unmatched low kerb weight and an extremely long service interval, with the highest durability and greatest passenger comfort that DAF Components has offered to date: the new, driven rear axle for coaches and buses is raising the bar in just about every way. DAF Components will also be unveiling the new Euro 3 and Euro 5 PACCAR engines, which run up to 12% more efficiently than their predecessors.
The new, driven rear axle – including a new suspension system – and the new engines will make their debut at Busworld 2019, which will be held from 18–23 October in Brussels.
New axles: Minimum consumption, maximum comfort
Just like the completely new range of engines, the new rear axle – with a total gear reduction of 2.05 – fits seamlessly into DAF Components' down-speeding philosophy: maximum performance at unprecedented lowest rpms ever, which minimises fuel consumption and reduces noise for maximum passenger comfort. The new rear axle allows fuel consumption to be reduced by approximately 2%. This is partly due to the newly developed crown wheel and pinion set, which ensures that as little energy as possible is lost to friction. The axle also sets a new standard for weight reduction, without sacrificing robustness. The new axle of DAF Components is up to 70 kg lighter than any other driven rear axles for coaches and buses. An additional bonus is that the oil in the axle body only needs to be changed once every 540,000 kilometres, leading to even greater levels of uptime for the coach or bus.
New engines: Maximum performance with minimum RPMs
The range of newly developed Euro 3 and Euro 5 PACCAR engines for coaches and buses is up to 12% more efficient than the engines it is replacing and is based on the equally reliable and efficient Euro 6 powertrain launched in 2017. The power sources are unparalleled in their efficiency and quiet operation, and boast an excellent output at incredibly low rpms, reaching maximum torque at speeds as low as 900 revolutions per minute. This allows for cruising speed to be achieved at just over 1,000 rpm, increasing comfort inside the vehicle.
High power, high torque
The new Euro 5 PACCAR MX-11 engine is available with power ratings of 300 kW/408 hp and 330 kW/449 hp. These feature torques of 2,100 Nm and 2,300 Nm respectively. The new Euro 3 and Euro 5 PACCAR MX-13 engines are available with 315 kW/428 hp with 2,300 Nm torque, 355 kW/483 hp with 2,500 Nm, and 390 kW/530 hp with 2,600 Nm.
DAF powertrain solutions
For decades, DAF has held a prominent position in the international market for buses and coaches as an independent powertrain solutions partner to coach and bus manufacturers. To do so, DAF Components provides a complete range of Euro 3, Euro 5 and Euro 6 engines, some of which include a driven rear axle. All DAF powertrains are distinguished by low fuel consumption, optimum reliability and long service intervals for the highest vehicle availability and the maximum yield per kilometre.
LF chassis module for compact buses
The DAF Components range also includes the chassis of the DAF LF distribution truck, which is an ideal platform for building compact buses with 30 to 40 seats. DAF supplies this chassis with a wheel base of 3.05 to 6.70 metres and with 4.5-litre PACCAR PX-5 four-cylinder and 6.7-litre PACCAR PX-7 six-cylinder Euro 6 engines with power ratings of 112 kW/152 hp to 239 kW/320 hp The DAF LF chassis module is ideal for manufacturing a wide range of vehicles, ranging from compact midi buses to luxurious VIP coaches.
Full service for optimum efficiency
For optimum efficiency, it is important that a bus or coach is kept on the road as much as possible. Operators of buses or coaches featuring a PACCAR engine can call on the assistance of more than 1,100 DAF service points located across Europe and beyond, 200 of which are specially appointed as "DAF Coach & Bus dealers". These dealers are located along major routes for passenger travel and are fully equipped to provide services for systems that are specific to buses and coaches. DAF's International Coach Service is also ready to provide its services 24 hours a day, and DAF dealers offer repair and maintenance contracts for maximum reassurance before the journey commences.
The DAF Components stand at Busworld 2019 will be in Hall 6.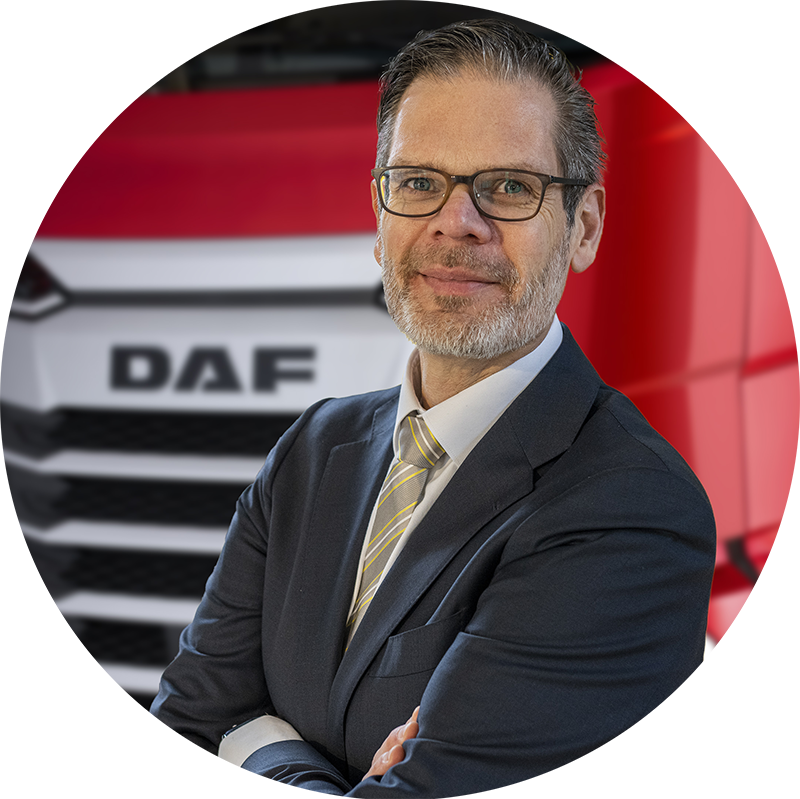 Press Contacts
Are you a journalist and do you have a question? Please contact:
Rutger Kerstiens
Corporate Communications Department
For general questions about DAF, please use: