Rear axles
DAF Components supplies cabs to partners manufacturing all-wheel drive trucks or other special vehicles for construction, forestry, mining industry and other harsh environments.
High efficient rear axles to achieve best in class fuel efficiency
Rear axle designs have been further developed and fast reductions of down to 2.05:1 can be specified for driving with low rpm at cruising speed. The new generation of rear axle differentials features a completely new design of crown wheel and pinion, aimed at highest durability and efficiency as well as extremely low noise levels.
Application of low viscosity oils and low friction wheel end bearings also enhance fuel efficiency.
Lower oil levels in the rear axle further reduce the already best in class axle weight to only 645kg.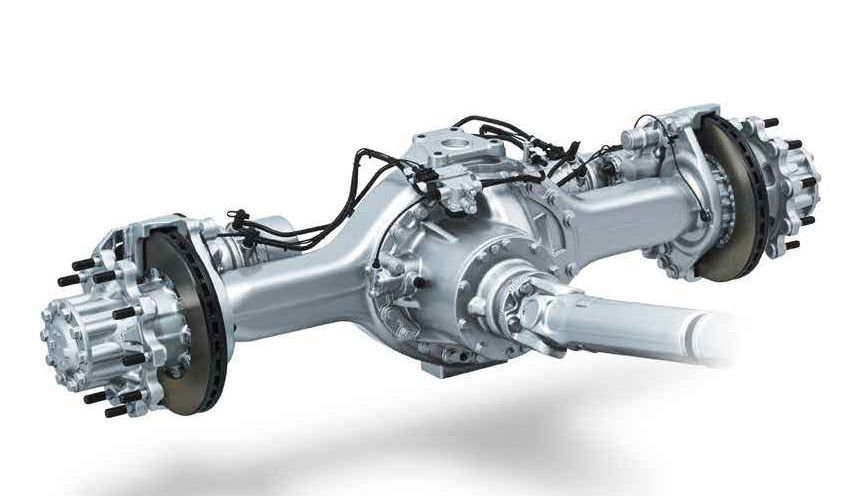 Specs:
Gears:
Fast ratios: 2,05 / 2,21 / 2,38 / 2,47
Single reduction
Hypoid gears
Crown wheel size 485 mm
Nominal output torque 44.000 Nm
With or without differential lock
Suspension & axles:
1344HAS drive axle
Engine position in rear (front as option)
Maximum axle load (v > 50 km/h) 13.000 kg
Track width 1.820 mm
Minimum wheel size 22,5"
No. of wheel bolts 10
Size of wheel bolts M22x1,5
Diameter circle wheel bolts 335 mm
Diameter center ring 281 mm
Lubrication wheel hubs grease
Spring track 970 mm
Prepared for 2-bellow or 4-bellow air spring suspension (option leaf suspension)
Weight of axle 645 kg (dry)
Oil content 15,5 liters
Propshaft flange 180 mm

Brake system
Ventilated disc brakes
Disc brake size ø 430 x 45 mm
Brake lining material DAF 1200
Brake booster 24"/24" HFL
Brake booster facing forwards or rearwards
Brake application shafts without maintenance
With or without ABS preparation (ring and sensor)
Service & maintenance
Warranty 1 / 2 / 3 years without mileage limitation
Vecto
CO2 / VECTO certificate available


Find your nearest DAF Dealer