We use cookies for a variety of purposes, such as website functionality and helping target our marketing activities. Some cookies are essential, others help us improve your experience by providing insights into how the site is used. For more information, please visit our Cookie Notice.
DAF launches downspeeding power train components at Busworld '17
Significantly more fuel-efficient, quieter, more powerful and more comfortable
Substantially more fuel-efficient, quieter, more powerful and more comfortable. DAF Components introduces significant innovations at Busworld 2017 in Kortrijk, Belgium – downspeeding engines and accompanying axles for buses and coaches. The newly improved PACCAR MX-11 and MX-13 engines are incredibly quiet, providing optimum return at extra-low engine speeds. DAF is also introducing newly developed, extremely fast DAF rear axles, which - in combination with optimised transmissions - delivers exceptionally low fuel consumption and unprecedented travel comfort.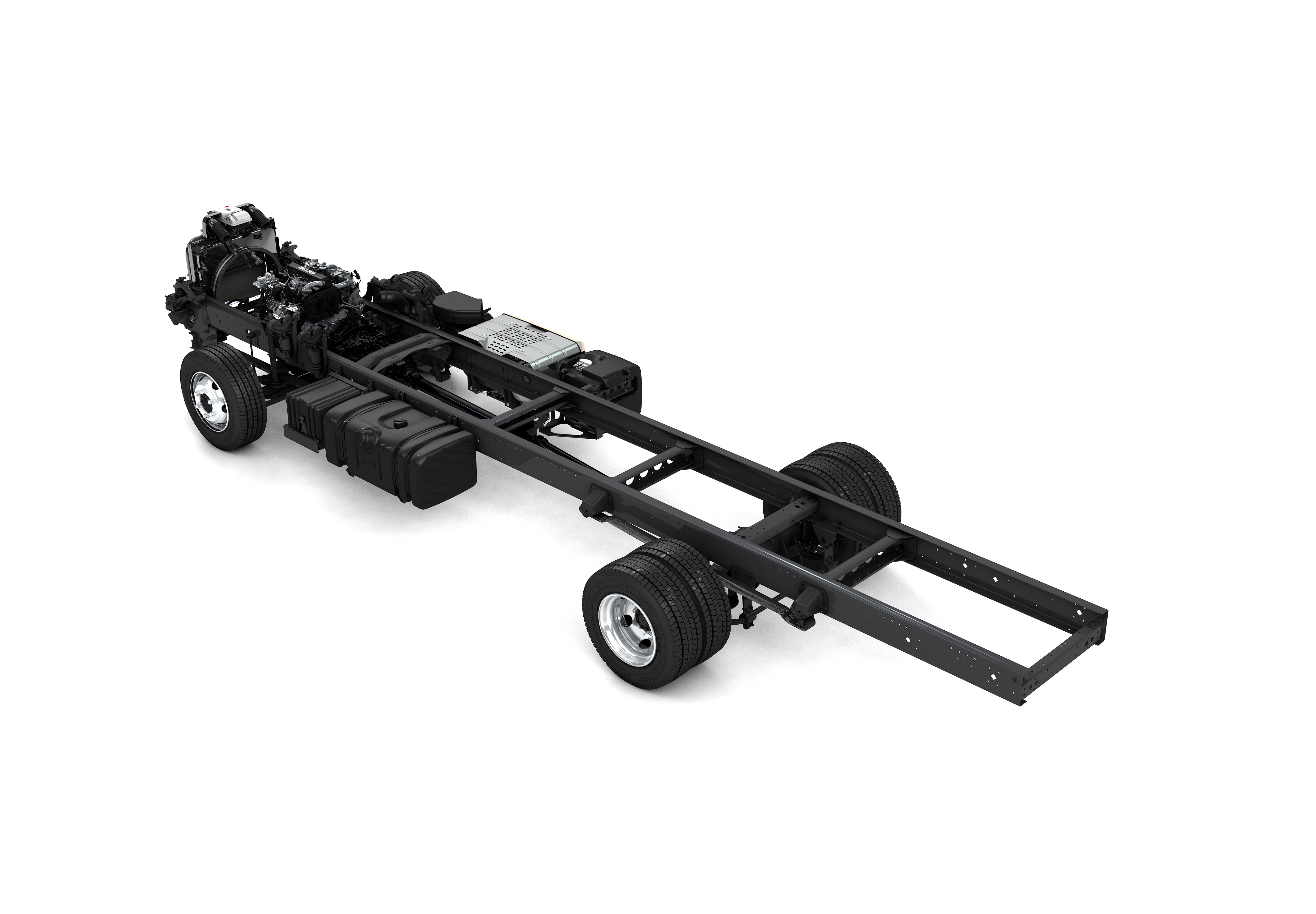 DAF introduces downspeeding engines and accompanying axles for buses and coaches

- Up to 6% lower fuel consumption
- Greater comfort for passengers
- Maximum torque available at 900 rpm

Significant updates to PACCAR MX-11 and MX-13 engines

- Reduced weight
- New combustion system, turbo and new valve train
- New intelligent pumps for oil, water and steering
- More torque delivered at low engine speeds
- Higher ratings up to 390 kW/530 hp
- Leading engine brake performance

New, highly efficient rear axles

- Faster ratios
- Reduced weight
- Lower internal friction
To ensure that every drop of fuel is used to maximum effect, DAF has taken a close look at every aspect of the power trains, asking, "how can we lower fuel consumption even further?" for new engines and new rear axles. The ultimate goal is to achieve maximum return, maximum reliability and maximum comfort for minimum costs.
Downspeeding
The starting point in the development of the new PACCAR MX-11 and MX-13 engines was to reduce speeds (downspeeding) in order to fully optimise fuel consumption. The new generation PACCAR MX-11 and MX-13 deliver their maximum torque from 900 rpm, without compromising performance. This means that it is possible for both the MX-11 and MX-13 to turn at around 1,050 rpm at cruising speed.
High torque
To ensure plenty of traction and a high level of driving comfort, even at the new, lower engine speeds, the torque on all new engines has been increased by 50 Nm to 200 Nm (depending on the engine type). The rating of almost every engine has also been increased by 10 kW/14 hp to 15 kW/20 hp. Innovations
PACCAR MX-11 and MX-13 engines have been enhanced further to enable downspeeding. For both engines, components including engine block, cooling, air inlet, bearings for the crankshaft and pistons, have all been adapted. The combustion process has also been enhanced and the compression ratio increased.
In addition, new and even more efficient turbos have been used, meaning that the engine delivers even more torque at low engine speeds while providing more efficient combustion. With a view to maximum efficiency, DAF is using a continuously variable oil pump, as well as a completely new oil module with reduced pressure losses. This newly-developed pump ensures that the oil pressure is always precisely aligned with the engine requirements, saving energy and thus fuel. The same principle also applies to the new continuous variable cooling water and steering pumps, which also help to reduce fuel consumption.
Increased rating and torque
The new PACCAR MX-11 engine comes with ratings of 220 kW/299 hp, 251 kW/341 hp, 270 kW/367 hp, 300 kW/408 hp and 330 kW/449 hp. The engine torque is 1,350 Nm and 1,500 Nm for the two lightest power trains. The most powerful MX-11 engine variants deliver a torque of 1,900, 2,100 and 2,300 Nm respectively.
The ratings for the redesigned PACCAR MX-13 are 315 kW/428 hp, 355kW/483 hp and 390 kW/530 hp, with torque set at 2,300 Nm, 2,500 Nm and 2,600 Nm respectively.
DAF engine brake sets benchmark
The drive torque and rating of the engine are not the only aspects that are increased. The already leading MX engine brake on both the PACCAR MX-11 and the MX-13 has become even more powerful thanks to innovations on the valve train, including an adjustment to the cam profile. Just like the MX-11, this means the MX-13 now has an engine brake with 'single valve activation', which delivers more braking performance at a lower speed. It goes without saying that both engine brakes offer maximum performance over an extremely wide range of engine speeds. This not only limits wear on the brakes, but also delivers a higher average speed.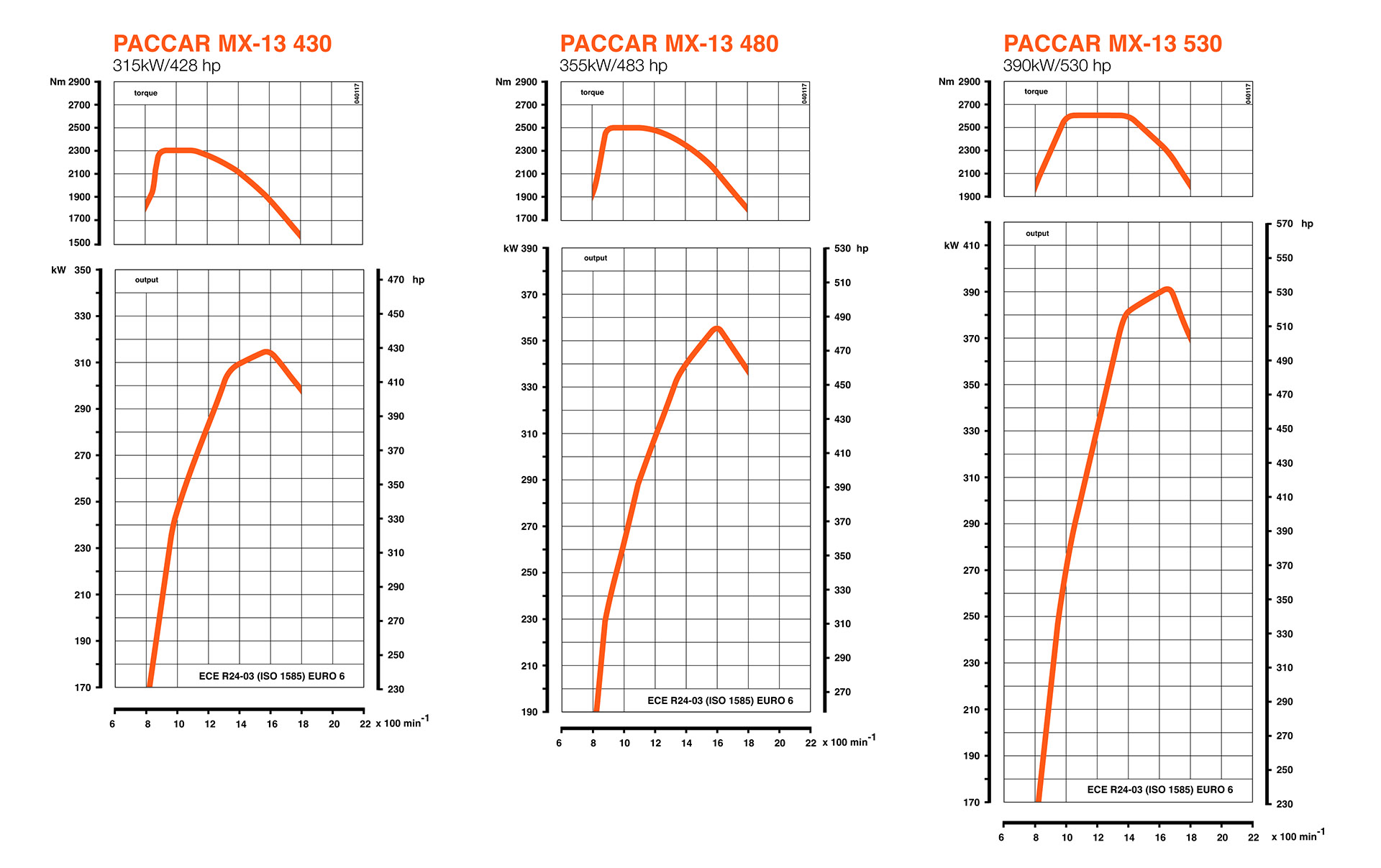 Press Contacts
Are you a journalist? Contact us for more information about the company, our products and services or any other subject.
Rutger Kerstiens
Corporate Communications Department